Finished Baby Booties!
Spurred on by the successful finishing of the hat (Thanks to Chelle, for clearing up that pronunciation thing, "tuque" does make more sense) I sewed together the Ugg-Style Baby booties last night.
Here they are pre-sewing... very lumpy little buggers. At this stage, I was concerned. They didn't look at all bootie like.
But, after loads of experimenting with embroidering... they turned into things an actual child might wear.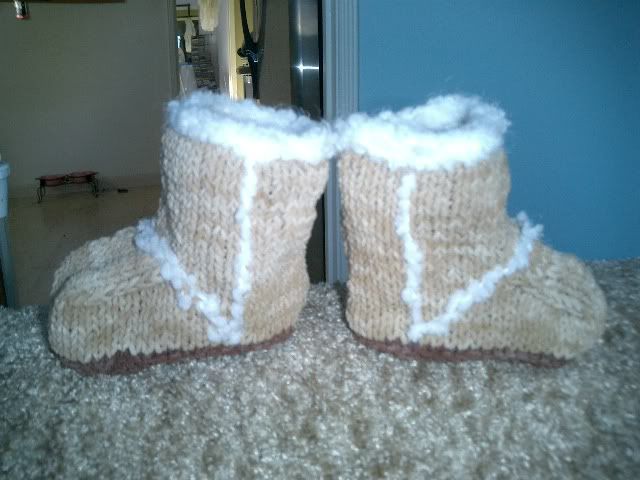 I'm still a little worried about the size, but this is the 9-12 month sizing. To continue my general theme of asking the commentors to help with my ignorance, if anyone could let me know if this looks like the appropriate size I'd be incredibly grateful.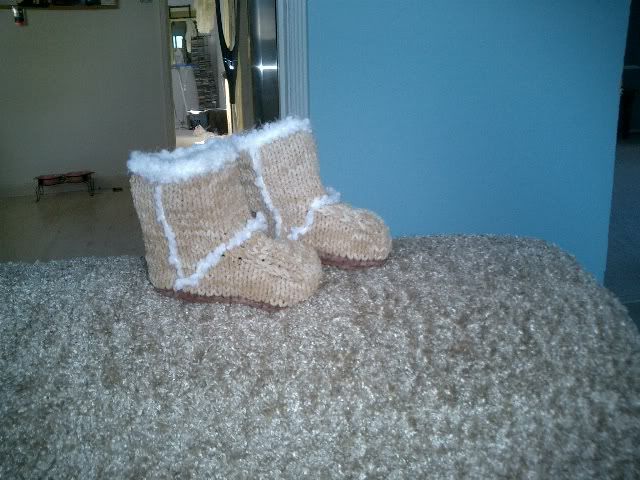 I still have a load of the yarn left over, so I'm thinking about trying to make the smaller size with what I've still got. Worse comes to worst, I figure I can switch the colours, and use the darker brown as the main colour.
Coming soon: Your humble host figuring out how to link to photo albums of previously Finished Objects, and hopefully a list of 2006 FOs.
Have a great weekend, I'll see y'all on Monday!