What I knit on my (not Summer) Vacation
I think I'm finally pulling out of my knitting slump. For a while there, I was beginning to wonder if the urge to knit (some of you may want to cover your ears, here) had left me entirely. I've had other phases, so I thought, maybe this was one too. The slow tinking back of the Rose of England shawl seemed like it would be the nail in my knitting coffin.
Luckily, it looks like I just needed a wee bit of a vacation to get my knitting mojo back in full force. Here's everything I've been working on while in Sunny Santa Barbara:
That's a KnitPicks tulip sock (the same kit I got my Spooky SP - what can I say?) in the autumn colorway, the beginnings of a Clapotis, and most importantly - A Rose Of England that is BACK ON TRACK. I have tinked back to the problem area, and am once again making progress.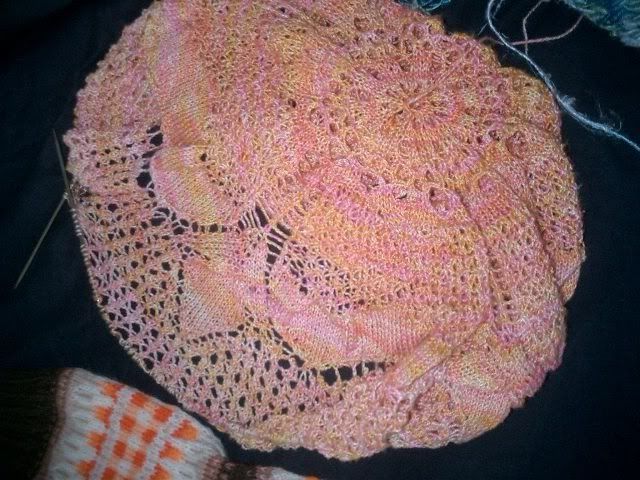 It's hard to get decent pictures of the shawl-in-progress, just because it gets so big so quick, so the above is the best I could do.
Next, here's the progress I have made on the Clapotis to be since yesterday: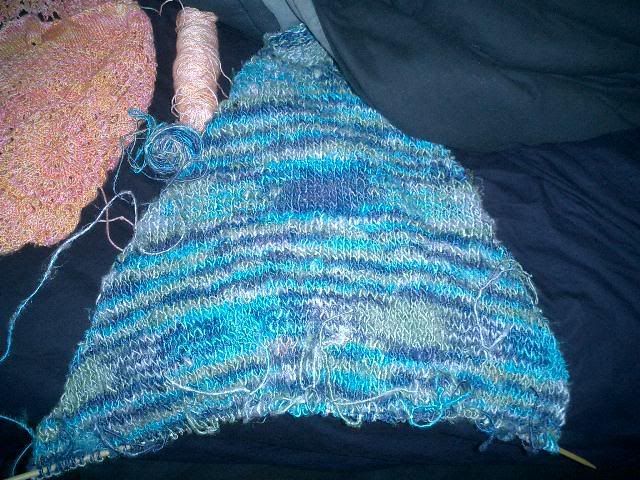 It's a very... rustic yarn, but I still think I like it. It's a little shinier in person. I decided not to do the full amount of increase rows, as I reached optimum width with about 70-something stitches (I forget the exact number, and I'm too lazy to check). It's a soft yarn, although I'm still waffling a little over how much I like it. The other problem is, I stupidly came down without any extra needles, so I'm working on Clover circs. I know many people love bamboo, but I get frustrated with how "sticky" wood is. I'll switch to metal circs once I'm home again.
Finally, the Autumn sock! I've already done these socks in the Spring colourway, so they're fairly easy knitting by now.
This sock just needs a toe grafting (of course, I left my tapestry needles at home too) and...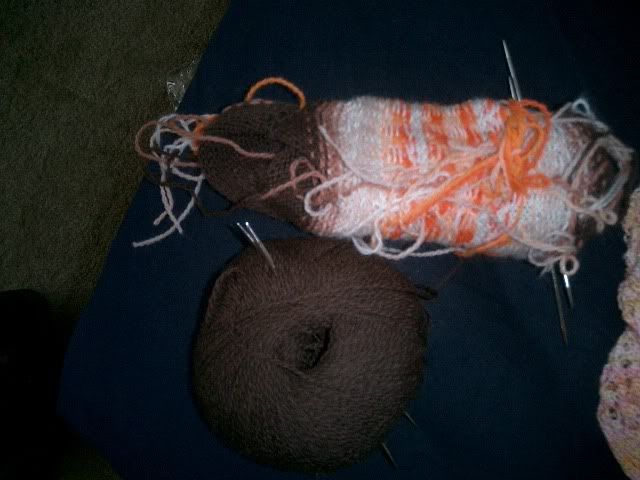 Well, that's the downside of these socks. Pretty, but there's a whole lot of weaving in ends when you're done. I got pretty creative with carrying colours down several rows, but you still end up with quite a bit of work. Poppins, if you're reading this and despairing, don't. :) They're totally worth it, and super warm and comfy.
Only two more days of yummy vacation-ness, and then back to the grind. I'll try not to get too quiet again, dear readers. I am, after all, a complete comment whore. ;)