The Return of the MOAC, and some Vintage Sock Pr0n
Argh, I thought I was getting better, but the infamous MOAC knocked me out for a good week. On the bright side, I've gotten quite a bit of knitting done. The Christmas before last, my darling boyfriend got me the book "Knitting Vintage Socks," so I decided to make a wee project out of doing several of the patterns in it. I've acquired a fairly decent sock yarn stash, and I've just discovered this stunningly beautiful yarn by a local dyer. Frankly, I'm loathe to share it, because I live in absolute terror that my dear readers will deluge my LYS with phone orders for it and there will be none left for me!
Both pairs of socks are out of that darling Baywood yarn. The first, the "Bed Sock" is her 50/50 wool silk blend. Now, I love this yarn and this colour, but there is one caveat - I almost ran out of yarn. I had to do some serious fiddling with the toe of the second sock, but I think it's more or less not noticeable. This is a blissfully soft yarn, and suits the idea of the luxurious Victorian Bed Sock quite well: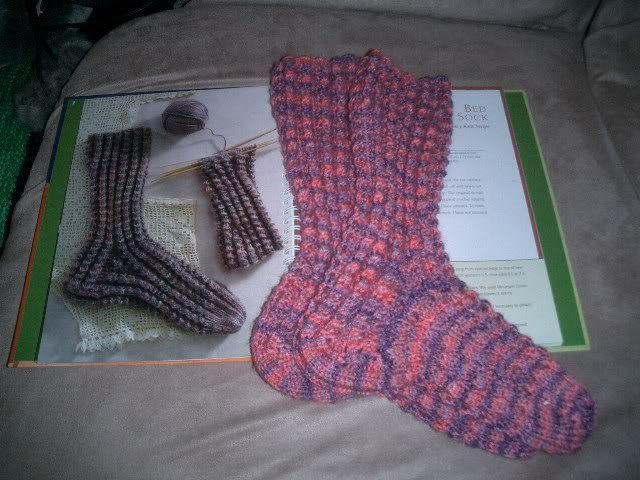 The gratuitous on the feet shot:
With the stretch of this yarn, I think I could have gone down a size on the needles (both pairs were done on size 1s), and still had a great sock. I have another skein of the wool/silk blend, and I think I'll try a sock on size 0s to see how it turns out.
Pair of socks #2, the Fancy Silk Socks. These are in Baywood's standard 100% wool sock yarn. The colourway is Jewel Box, and my LYS can barely keep this in stock. I don't think the photos do it justice at all. The red is just stunning in person - absolutely luminescent.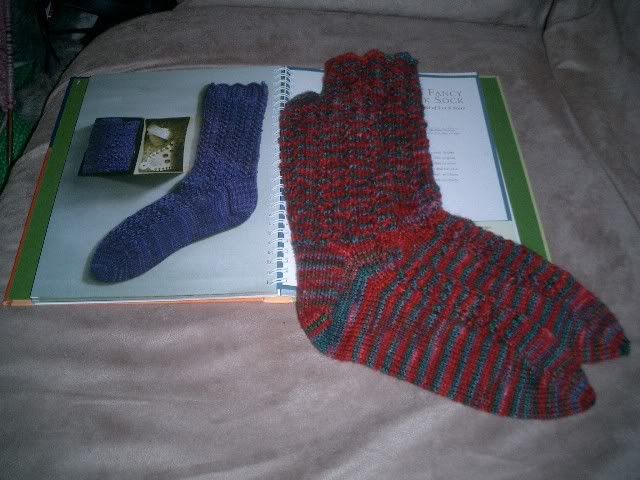 Standard shot #2: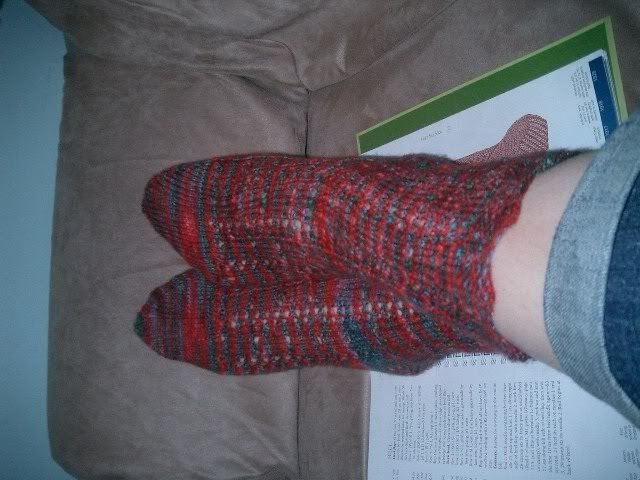 And just to show off the colour striping, here are the soles of the Fancy Silk Socks.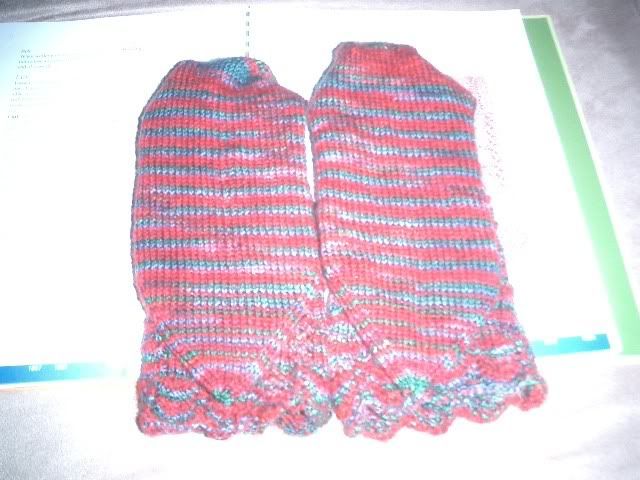 The Fancy Silk Sock pattern is quite cursed for me. I think the socks still turned out lovely, but I've never had SO many mistakes in one sock before. This is entirely my fault, although I do wish the pattern would have been a bit clearer about the instep stitch repeat not dividing evenly (the last stitch repeat is halved), because there's no dead-on picture of the sock to let you know. I followed the original toe, which is a drawn together toe. Not my favourite, but I sort of like to follow the vintage pattern as much as possible. I noticed that originally there was a purl ride dividing the cuff and the leg pattern, and I rather wished I'd put that in. I'm not sure why Nancy Bush opted to take it out.
I've got two more skeins of Baywood to use up - and I think I'm going to continue doing the vintage socks. There's a great sense of being connected to the past working these patterns. It's fascinating to think that 100 years ago, some woman was knitting these same socks. Of course, probably her socks were a wee bit more solid in colour, but still!
The Log Cabin blanket continues, and is decently lap-blanket sized. It's gone back to being my project of last resort. I'm currently working on the
Flickering Flame Scarf
that I learned about on Lime & Violet. My boyfriend's darling mother sent me 5 skeins of Malabrigo in a lovely dusty pink for my birthday, and so I'm working up a scarf/hat/possibly armwarmer set in time for Valentine's day. I'll try and get some pictures up in the next few days.