Moment of Truth: Sock Yarn edition
Like many knitters, I have a few unfinished projects languishing around my house. I'm hoping to spend the summer getting those finished. The Rose of England shawl hasn't been touched in months, and I would like to actually wear that during summer when a silk shawl will actually be appropriate! I also have that poor Tulip sock I haven't worked on since autumn of last year. I don't know WHY I haven't - I can finish those socks in a day.
Anyway, one of the projects that's been sitting around is my Socks that Rock grasshopper sock. I'm not actually doing it in the sock yarn that Blue Moon sent, because the yarn is just way too pretty to be broken up by a lace pattern:
There! It is a SOCK IN PROGRESS! It's my first time working a sock on two circs, and even though I could reasonably switch to dpns at this point, I am nothing if not determined to finish on two circs. At this point on the leg, it's just constant p2togs, yos. At the rate I'm going, I should have a good knee sock by... oh, let's say 2012.
Oh, that moment of truth? Here it is: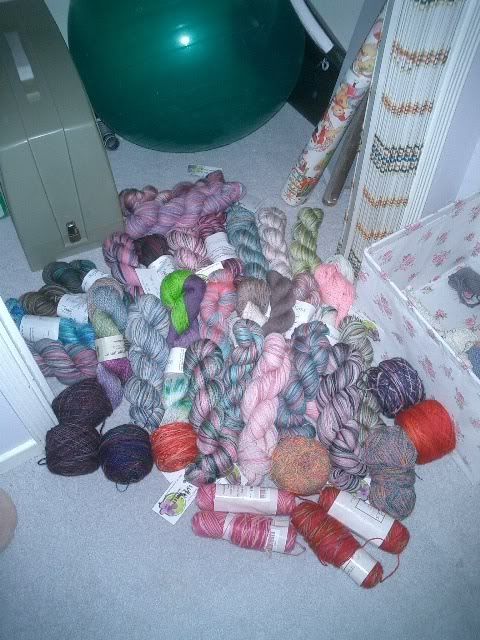 That's the sock yarn stash, excluding the yarn for the other Tulip sock. I don't know when the hell it got this big. What's even more distressing is - I don't want to knit most of these skeins. They're too pretty. I know when I make them into a sock they will never look the same. I don't do this with other yarn... just skeins of sock yarn. They're like my mini pieces of art. You don't knit art, right?
I can't be the only person who feels like this. Reassurance in the comments would be appreciated! :)
Coming soon: Hopefully, I stick to my main projects. Don't be surprised if I cast on for Lizard Ridge soon, though.