Stitches West ate my Brain
I thought going to see the Yarn Harlot would prepare me for any kind of yarn-y madness the world could throw at me. I was horribly, horribly wrong. Stitches West is quite possibly the most insane event I have ever been to. Not that that's a bad thing. Only, there was so much yarn and so many people that I don't think I actually REMEMBER any of it.
Here I am with my friend Jessica (modeller of the Dibs on Ribs sweater of Woe (TM)) about halfway through when we took a break to eat. Note the dazed and confused expressions on our faces.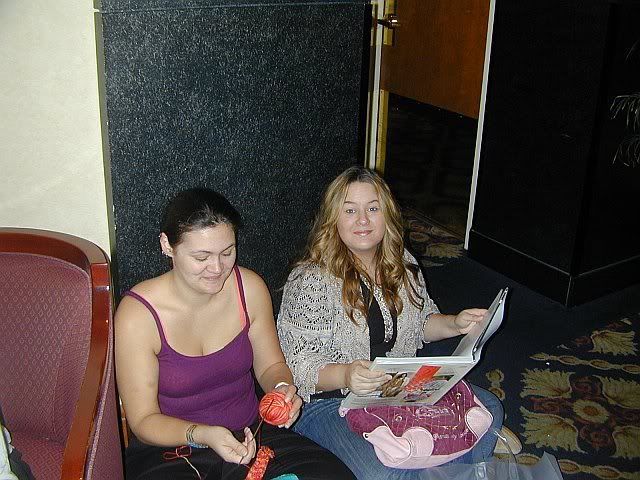 Here's the total yarn haul. Jessica acquired: Victorian Lace Today, a
Laura kit from White Lies Designs
, and a bundle of alpaca lace from
Lisa Souza
in a lovely sage colour. Jeanne acquired a beautiful eggplant coloured yarn from
Cheryl Oberle
and some rainbow and blue coloured wools from I-Don't-Know-Where (she wandered off on her own for a bit - brave girl!). I also picked up Victorian Lace Today, along with an
Angelina kit
from White Lies Designs in a pretty blue colour, the Three Sisters Jacket pattern from Cheryl Oberle, two sets of sock yarn from Lisa Souza (in Violet's Pink Ribbon and Lime n Violet) along with a rainbow-y coloured alpaca lace, and finally some Tilli Thomas Pure n Simple and Rock Star to make the Simple Knitted Bodice. Here's a pic of our total haul:
And here's my personal stash enhancement (on top of some other stuff):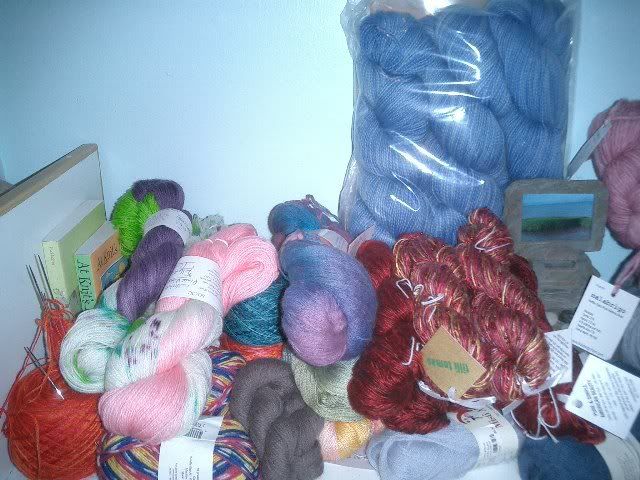 I had to take an up-close picture of the Tilli Thomas yarn, because it really is breath-takingly lovely (quick side note: the beaded yarn is actually much deeper in colour, the flash washed it out):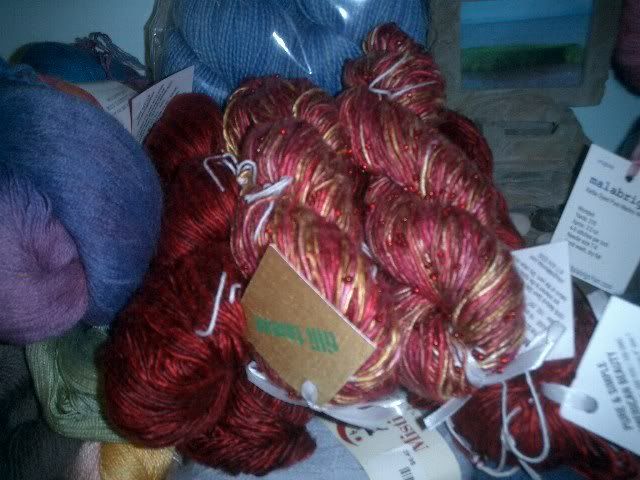 Now, I rarely get yarn-political on this blog, but I do have to go there for just a minute (those who want to skip this can just end here -- don't worry, I still love you :))...
Ready?
I feel like when I post a picture of yarn on this blog, that I am tacitly endorsing that yarn. However, Tilli Thomas engages in a business practicing called Keystone pricing that I find to be a disservice to the yarn community. For more information about Keystone pricing tactics, check out
Consumer Friendly Yarns
, or listen to Brenda Dayne's or Lime & Violet's take on the subject. So yes, I'm probably a hypocrit for purchasing this yarn... but damn, it was too pretty not to buy. ;)
Coming soon, for those of you still reading: The Eris Sweater rides again!