Tie One On
Well, there WOULD have been posts this weekend if I could have found my damn camera. Thankfully, it has reappeared, and here we go!
I'm going to start with the most recent completed project, and then we'll have a little back in time in further posts.
Saturday saw the final touch on my first Rowan project - The Tulip Sweater from Rowan Knit & Crochet magazine #41. It heavily features a new summer yarn called Damask which is just stunning to look at, and suprisingly comfy to knit with. It's a viscose, linen, acrylic blend (sounds just awful doesn't it?) and the drape on this yarn! I can't even begin to describe how nice it is. I'm glad I got past my anti-acrylic blend prejudice and gave it a try.
Anyway, the sweater! Here it is laying flat, which does it very little justice, but does show the construction fairly well.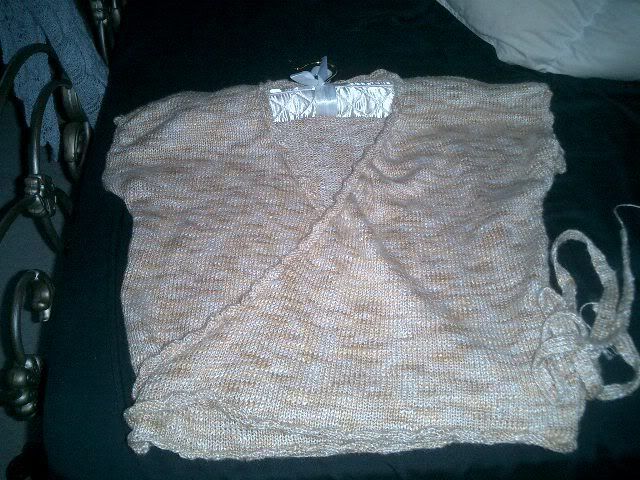 The sleeves are part of the front and back pieces - you just increase till you have wee little sleeves. I'm very fond of that, because I HATE that feeling of "Oh yay! I've finished the front and backs, I'm nearly done! Oh wait... Sleeves."

Here's a better picture, and this is more how it looks when worn:


Those ties in the back are WAY too long, and that's the only part of the pattern I think I'd change if I were to knit this again. They are a k1, p1 rib - and supposed to be 100cm long (approximately 39 inches, according to Google). They end up looking silly unless they're tied in the back. They look artsy in the pattern photo, but not so useful in real life! Not to mention, being an English-style knitter, k1p1 ribbing is sort of the equivalent of water torture for me.

The border - or rather, the instructions on how to put ON the border - nearly did me in as well, but thanks to the friendly help at Nine Rubies, I was able to figure out how it was supposed to be knitted on. The directions seem to assume that you've probably knitted a border onto a bound off surface before, and know what the heck you're doing! In my case, that's totally untrue. :)

The Vital Stats (for those who care):

Yarn: Rowan Damask (colour mica) - 8 balls (the pattern for my size called for nine, but I think they expect you to use a new ball for the ties - I had more than enough left over to do the ties without breaking into a new ball)
Needles: Size 3 for ruffle border, Size 5 for body
Pattern Designer: Marie Wallin
Total Knitting Time: A week and a half

Tomorrow or thereabouts (depending on my roaming camera): The story of the Simple Knitted Bodice, or why customer service REALLY matters.
An administrative note: I have NO EARTHLY IDEA how to respond via e-mail to comments (I could swear I used to be able to, but I can't figure it out now). If you ask a question in the comments, I will reply there. :) I'm not ignoring you, I'm just not so good with the internets. :)