Obsessed? Me?
Occasionally I get hold of a project that overcomes my tendencies to work wantonly on several projects at a time. Arietta seems to be that project. Despite an overwhelming urge to join the current slew of Jaywalker knitters, I've been nothing but faithful to my sweater.
So, to recap, last time we met I had a left (not right, sorry) front that was this big:
Late Saturday afternoon I picked up the needles, and put on a Mythbusters marathon. By Sunday evening (don't worry, I didn't knit all Sunday - cleaning and eating happened too :)) I had this:
That's a full left front, nice and attached to the back. This sweater uses something I've never tried before - a three needle bind-off on two needles. I find it dreadfully clever, and if I must knit in pieces, this is how I'd like to do shoulder attachments.
Here's the bind-off up close:
The only thing I don't especially care for is that the brown peeks through a little, but I suspect it's only noticeable up close. Otherwise, the fact that the pattern lines up so nicely fills me with knitterly glee.
Here's everything I've got so far: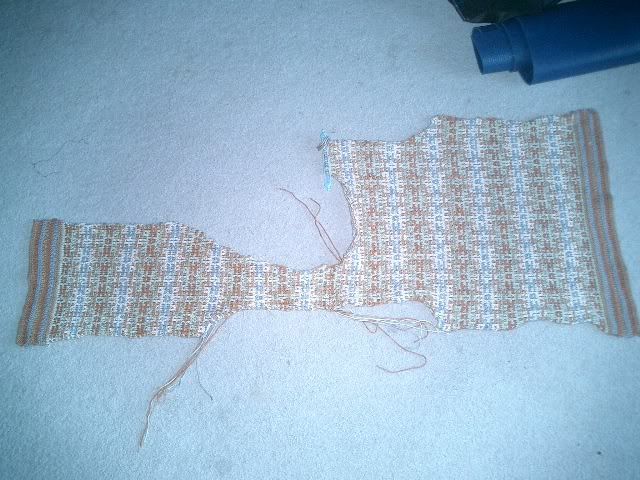 I'm already a wee bit into the right front, but only as much as the picture of the left front, so I shan't bore you with it. I'm hoping that I can get this thing finished in the next two weeks, job and life permitting. The fronts go VERY fast, but I suspect the sleeves will be a bit of a slog. Then there's the button band, so I'm going to have to do some buttonhole research - it seems like there are millions of ways to make a buttonhole, and everyone has their favourite.
Of course, I also have to buy buttons.... sounds like a whole new thing to get obsessed over.
Coming soon: Oh, just guess.